WINTER FASHION TRENDS
WINTER FASHION TRENDS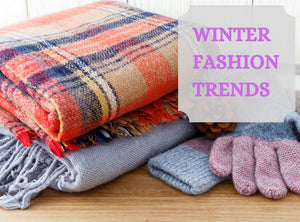 The fashion gurus have spoken.  Retro is back, along with some other fascinating trends.  Get ready for…
Capes – in tweed, animal prints and snappy colors.
Longline Coats – wool, plaid or puffy coats that skim your ankles.  Fall is about having a statement coat.
Boxy Jackets – tweed, plaid and leather for the "Tomboyish" style, paired with pants or skirts.  Look for faux fur, leather or lambswool.
Mixed Patterns and Textures – stripes with plaid, eclectic prints, mixed textures, and metallic accents all thrown together for the classic bohemian edge.  Layers, layers, layers.
Purple, Purple, Purple – anything from lavender to rich orchid hues.  Go for monochromatic or a touch with lavender accessories.
Fall is Feline – hang on the leopard animal prints and mix them up with florals for an unconventional artistic feel.
Blacklight Neons – dazzle the streets with neons that are showstoppers alone or paired together for a statement look.
Soft Silky Satin – breathtaking style with not only the sleek look but with show-stopping neon hues.
Asymmetrical Necklines – the "I just threw it on" look is a good segue from off-shoulder tops. 
Quilty Pleasures – from boots to dresses to coats, patchwork is in.
Fleece – a winter staple, you can't go wrong with a fleece jacket, pullover or vest.
Dark Romantic Florals and Ruffles – still a wardrobe must-have for winter.
Power Shoulders – the broad shoulders and the small waist silhouette is showing its face again.  You can snatch it up for smart business wear or a bedazzled evening dress.
Brighter, Bolder Accessories – trade-in neutrals for attention-grabbing color.  Red is still the go-to color.     
Itty Bitty Bags – combine with some other trends and make it snakeskin, animal print or red.
Feathers Everywhere – accents of feathers adorn everything from top to bottom including shoes and jeans.
Rhinestones, Sequins, Glitter – more is better on bags, belts gowns and hairpieces.
Chunky Chain Necklaces and Gallery Inspired Earrings - make a big splash with something artsy and eccentric.
Combat Boots – they're back and clunkier than ever with maxi or miniskirts. 
Socks with Sandals – there is no holding back on this one.  What was once a fashion faux pas is now a fashion trendsetter. Sheer socks with strappy sandals or bright colors with platform slides.  The sky is the limit.
Get a little kooky and wild with your winter wardrobe.  Have some fun with it!