2021 Fashion Trends By 3T's Boutique | Teens, Tweens & Things
2021 Fashion Trends By 3T's Boutique | Teens, Tweens & Things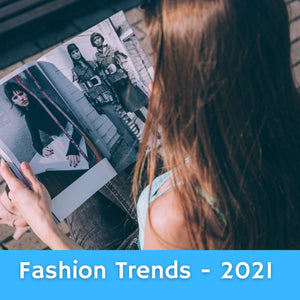 Attending school from home and working from home had a big impact on design trends for 2021.  The comfy, no nonsense look we've embraced sticks around but with a sharp upgrade.  Sweatpants are outed for baggy jeans and wide legged bottoms.  Slippers are reinvented with a lot of snappy styles you'll love. 
For those of you with a desire for fire in your style, whether your staying home or not, 2021 brings some surprises!  Read on to find out more about the top trends.
Cut Outs – Showing some skin after months of loungewear is a relief.  Look for cut outs in sleeves, at the midriff, down the side or sides, the back, breast, and legs.
Second Skin Tops – As described, second skin tops are the new closet staple available in a variety of eye-popping prints.
Bralettes – Not an undergarment anymore, bralettes are now a statement piece showing up in leather, plaids, satin, and sequins.  Wear them as a matching ensemble or layered with business casual.
Baggy, Loose, Wide – Perfect to pair with bralettes and second skin tops are baggy jeans and wide legs. The looser and wider the better, baggy is showing its elegant side this season.
White – No longer held back by convention, the little black dress has been trumped by white in 2021.  Look for sleek dresses, maxi's, separates of all kinds and (no kidding) knee high boots!
Anytime Slippers – These are not your Grandma's house shoes.  Slides, moccasins, and sandals are trimmed in everything from faux fur, bows and shearling ready to go out on the town. Look for stripes and patterns too.
Feathers Everywhere – Find them on tops, skirts, cuffs, and sleeves in colors that flatter their bird inspiration. 
Living Room Disco – Sparkly meets relaxed glamour this season. Wear gowns with sneakers and a baseball cap or pair separates with T-shirts.   Anything goes. 
Other Trends - Fringe is still in,  Maxi's are out there, Yellow bags, Pop Blue accessories, Padded Leather, Head Scarves, Classic Jewelry and Capes are some of the trends you'll see.  Have fun checking them all out.