COSTUME IDEAS
COSTUME IDEAS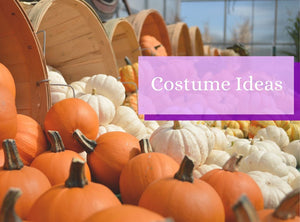 Costume, costume, costume…  Are you wrestling with the big question: what do I wear for Halloween?  Wrestle no more "my little pretties", check out what's trendy and popular this year for Teens and Tweens; everything from keeping it creepy to casting your fashion spell. 
Individual or Couple Choices
Powerpuff Girls: pick your color, and don't forget the matching shades.
Superhero:  take your pick from any of the latest like the Joker, Spiderman, Harley Quinn, Wonder Woman, Black Panther, Batwoman… pull it all together with spandex, tights and capes.
Disney Recent Releases:  Lion King, Aladdin and Toy Story are full of multiple good characters.  Lots of costumes available online and who knows what may be found in your little bros toybox. 
Queen and Elton John:  epic choices, but not for those faint of heart teens.  Browse some movie trailers for ideas and you can easily slay either of these.
The Royal Couples:  classy and great for you and your BFF and your siblings if they must tag along for a while.
The '70s: raid Grandma's closet and hippify yourself with fringe, flares, headbands and definitely some peace signs.
Fairy Queens, Mermaids and Unicorns:  super tween choices and always destined to catch someone's eye.  Makeup is the key here with lots of sparkles.  Watch some u-tube tutorials for makeup ideas.
Mean Girls:  a pink dress and some heels.  Look fly in the costume ladies, but please leave the "mean" at home.
Aliens and Robots: still popular and fun. Lots of room to be creative with supplies found around the house.
Halloween Classics:  Pirates, Vampires, Zombies, Witches, Ghosts and all other manner of Ghouls never go out of style.  The spookier the better.
Celebrity Fashion:  pick your number one celeb and mimic one of their signature looks. Spend some time in second-hand shops to find the right pieces and accessories to create your Beyoncé  or Lady Gaga costume.
Sports Fans:  Tennis and soccer have stolen some of the limelight this year.  Pick up a racket or soccer ball, roll out your tennis shoes and paint some old t-shirts.  Or choose your sport and let that be your guide.
Meme Time:  go as yourself in the future.  Add 20, 30 ,40 years and have some fun with this one.  Will your friends recognize you? 
Group Choices
Stranger Things and Game of Thrones cast:  Lots of costume pics and ideas online for dedicated fans.  Get together with friends and brainstorm some clever ideas.
Safari Animals:  Felines, snakes… animals of all kinds lurk in everyone's closet thanks to the popularity of animal prints.  Get your wild on.
Have fun dressing up as your character and be safe out there!