Online Teen Magazines
Online Teen Magazines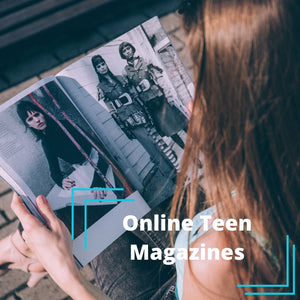 There is no need to run down to the market to pick up the latest issue of your favorite magazine anymore, unless of course you prefer a paper copy. Digital magazines are at your fingertips and accessible on your phone, tablet or other electronic device. You can always be up to date. Some choices you may consider:

TEEN VOGUE
Everything you want to know about Style, Culture, Politics or Identity you can find here. Check out what's hip, what's going on around the world, who is doing or saying what, and how you can make you better.

NYLON
As one of the leading creators of lifestyle content for young woman and as one of the first alternative magazines, Nylon focuses on thought-provoking topics surrounding beauty, fashion, entertainment, and everything in between.

TEEN EYE
An international online magazine created for teens, by teens that is read around the world and boasts that it has contributors from every continent except Antarctica. Founders Em Odesser and Zak Cannon met on Tumblr and with a passion for creating their own content, Teen Eye was born.

SEVENTEEN
Get the latest about Fashion, Life, Health and Graduation. Of course, you can also get the latest COVID-19 update since Graduation was canceled. You can look at Trends, Style Advice, Outfit Ideas, Celeb Fashion, or Fashion Quizzes. Lots of choices for Beauty, Love, Dating Advice, just about any topic you might imagine and much more.

AFFINITY MAGAZINE
The cutting edge of teen news written exclusively for teens, by teens. If you are an aspiring writer, you may submit your articles for publication. Topics include Arts and Culture, Politics, International, Race, Feminism, Real Life and LGBT+.

TEENZONE
A magazine with @titude for serious minded teens who want their voices to be heard. Written for teens by teens, it delves into multiple different zones, everything from art zone to study zone to career zone and more. Designed for the South African teenager it has a fresh perspective and the digital content is updated throughout the month.