Friendship - Good For Your Happiness And Health
Friendship - Good For Your Happiness And Health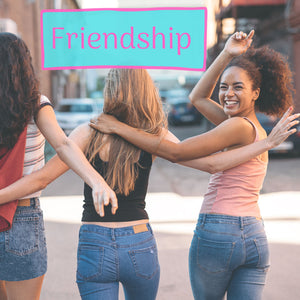 It may have been at the park, in your neighborhood or at a new school…            "go make some friends."  We've all heard that.  So, what is the point about making friends?  Why are friends important?
Aside from the obvious, there are a lot of studies that show the emotional and physiological benefits of having friends.  Let's take a look…
Happiness Is Contagious
If a friend of ours is happy, we're more likely to be happy too. The happiest people are the most social. The need to belong is foundational, so get out there and get your happy on.
Friends Skip the Small Talk
When was the last time you had a girl's night?  If you can't remember, it's been too long.  The people in your life who say what's on their mind are priceless.  Don't lose those people.
Friends Reduce Stress
When we are frazzled or are having a hard day, we turn to friends.  Women are more likely to do this than men, which is why women are less likely to suffer the effects of stress.
Friends Keep You Razor-Sharp.
Above-average cognitive performance in "super-agers" (people over 80 years old) is related to social integration, engagement with family, and emotional support from a social network.
Friends Help You Live Longer.
When researchers asked more than 90,000 women how much social support they had, those who said they had more support were more likely to still be living in a follow-up years later. Friendships don't just make our lives better; they make them longer. Women who have at least one confidant survive longer after surgery for breast cancer.  GIRL POWER!
Friendships Improve Our Health
How many of us started an exercise regimen, a mindset to quit vaping or to stop an unhealthy habit and after a while wanted to quit?  Friends hold us accountable and walk with us through the "I quit" moment. 
Social support wards off depression and suicide. People who are lonely tend to have higher blood pressure and other risk factors for heart disease, and they're more likely to "give up" or "quit trying" to deal with a stressor such as illness.  Take care of your friends.  They need you.
Our Friends Help Us Feel Optimistic
Daily social support is a key factor in feeling optimistic. Optimism, in turn, increases our satisfaction with life and lowers our risk of depression.  When we have social support, our visual perception of challenges changes: mountains look more like molehills. 
If you have friends, make sure that they know how much they mean to you.  
Make more friends; you can never have too many.