Accessories - The Finishing Touch For Every Outfit
Accessories - The Finishing Touch For Every Outfit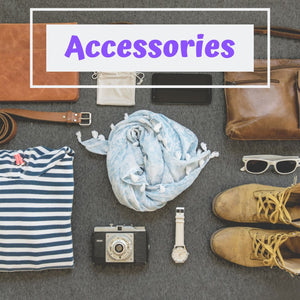 You've put together a snappy outfit, now for the finishing touch…accessories. No look is complete without them.  2020 brings with it bold trends, some sure to become your new favorites.
Chunky Boots made the cut and will be around for another season; the chunkier, the better.  With a dress or jeans, around the house or a night out on the town, chunky is your go-to boot.
Platform Sandals move to center stage.  Not only do you get some added height, but they are ultra-comfy and look great with wide-leg pants, dresses and vintage wear.
Square is back!  Whether it be strappy sandals or pumps, you'll be seeing square toes a lot.
Mary Janes have been a closet staple for years.  2020 is time to make room for some stylish Mary Jane pumps.  Just like her little sister, Mary Jane pumps are practical and a little bit flirty.   
Bags, Bags, Bags are out there in all shapes, sizes and colors.  From big super-size softies that hold almost anything to small soft feminine clutches.  Choose from street-savvy Bucket Bags for women on the go, multicolored bags, bags with fringe and matching mini bags to go with your bag.  There is a statement bag for every outfit.
Sunglasses shapes take a back seat to color this year.  Not just for function anymore, color is a bold way to flash your style.
Boutonnieres come out of the closet.  Adorning a lapel or a wide-brimmed hat, take advantage of this chic way to accent your outfit.
Large Chain Necklaces and Hoop Earrings stay strong.  A new jewelry trend you'll see is clear or transparent pieces made from glass or acrylic.  
Padded Head Bands and Wide Waist Belts will be seen across all venues, as well as Bucket Hats and Silk Scarf wrapped heads.
Tis the season for all things Raffia.  Find the plant fiber woven into bags, shoes, and belts.  This is a must-have for 2020.
Have fun vamping up your personal style!