2020 Fashion Trends - A New Decade
2020 Fashion Trends - A New Decade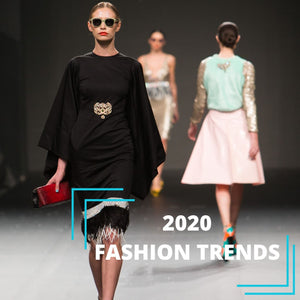 A new decade, but fashion trends for 2020 are more of your vintage favorites going as far back as the '70s.  If you aren't the vintage type, there are many modern styles sticking around so you'll have fun updating your closet for spring.  Read on to learn about 2020's hottest fashion throwbacks.
Flare Jeans are still a hot ticket and now we are seeing full-fledged Bell Bottoms.  Rock them with platform heels and a crop top. 
Platform Heels and Chunky Soles are all the rage with everything from romantic summer dresses and short shorts.
Ankle Chains make a comeback but this time around its about flashing gold and silver statement pieces.  Check out shoes that have the bling built into the ankle strap for instant style.
Bra Tops steal some of the limelight away from Crop Tops this season.  Paired with high waisted skirts or pants, you're all set for spring and summer.
Crochet pieces in bright bold colors.  Not unlike Grandma's doilies, but with a cool modern spin for skirts, tops and dresses.
Puffed Sleeves will stick around.  Pair them with some skinny jeans to balance the retro look.
Fringed skirts make a flirty statement.  To avoid the cowgirl look wear them with an oversized sweater and flats.
Hot Pants and Bermuda Shorts – A sassy look for evening or a new twist on business casual, shorts are an item this year.  Slick black stockings with hot pants take the look more places.  Paired with a blazer and sneakers, Bermuda shorts go nine to five.
Polka Dots on a maxi, mini, lacey or not, the dot is in the driver's seat this season.  Big and bold, small and cute, polka dots are a 2020 fashion staple.
The Disco Collar is back and is as swanky as ever.  The updated super collar for jackets, button-downs and coats are seen with contrasting colors, so the look stands out.
Denim Dresses stay strong and are the perfect pairing for platform heels and big hair.
Bigger Hoop Earrings, Chunkier Necklaces and Pearls are the jewelry trends to look for this season.
Have fun taking your trip back in time with 2020's fashion trends.