Fall & Winter Fashion Trends
Fall & Winter Fashion Trends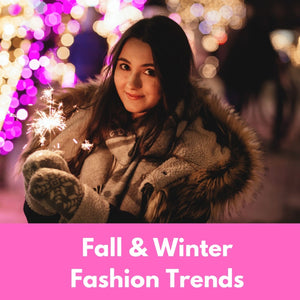 If 2020 was summed up fashion wise, "all dressed up with no where to go" would say it all.  There is no reason to neglect your inner fashion diva, dressing up for dinner with the fam or movie night on the couch can still be an event and we all know that dressing up lifts our spirits.  Just because is always enough of a reason to look fly.
With that in mind, some trends to look out for:
Fluffy knitted sweaters - chunky models are particularly popular. Preferably made of fluffy wool-like mohair
Oversized trench coats – paired with a t-shirt, this look is perfect for transition weather days, you'll be surprised how quickly they add a little polish to your jeans-and-a-sweater combo
Beige is the color of the season – not too dark, not too light, beige will take you through the fall into spring in style
Leather in all shapes and colors – pair with jeans or put together colored leather separates for a snappy outfit
Patterned maxi dresses - the trick here is to pair patterns with solid pieces so you don't look cluttered
Lace-up boots - a must have staple and they look great with almost everything
Puffy statement sleeves - puff, puff, more puff on coats, dresses, tops, the bigger the better
Belt bags to accent any outfit – try a variety of shapes and patterns
Camo - makes a comeback and its not just for the outdoor types
Leopard print - still the rage
Cowboy boots – snakeskin is a popular pick
Boxy blazers - kick up your layered look
Scarves - at your waist, over your shoulder or on your head
Gold is the standard - shine bright in glitzy fabrics from head to toe
Checks - pick from tights, skirts, coats, and headscarves, there are multiple ways to wear your squares
Fringe - from '20s flapper-style tassels to wild chunky trails on coats, bags and dresses
Red Alert - fiery, unapologetic, it's worth investing in this season.
Back to Black – all black is a popular look that is easy to put together because you can find everything in black, have fun with it
 Remember to have fun express yourself.