How To Create Chic Classic Looks On A Budget
How To Create Chic Classic Looks On A Budget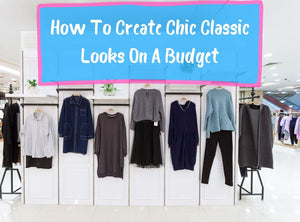 Does your Budget have your Style in a funk?  Is your Fashionista on hold?  Good News: You don't have to sacrifice class to save money.  Check out these shopping and style strategies to help you be creative, an expert on all things chic and cheap and you'll be surprised at what you can pull off. 
Inventory What You Have
We all tend to accumulate things that are never or rarely used. Take some time and face off with your closet. Ask yourself:
Do you have a ton of blue things, but no red? How about having 100 t-shirts but no date-worthy clothes? What about shoes? Are they all sandals? Tennis shoes? Worn out? Do you have pants you never wear because they need ironing?  Or you need to lose a few pounds?
Take everything out of the closet.  Look at every piece.  If you love it, it goes back in the closet.  If you don't, put it in a pile for later…
Have Your Own Fashion Show
Put together some outfits.  Lay them all out with everything, shoes and accessories. See how many different combinations you can come up with.  Try them on and take pictures.  Maybe you aren't very good at putting things together.  We all have at least one friend who can do it in a snap.  Invite her over and have some fun.  Chances are you'll discover some sweet outfits that you've never thought of before.
Swap With Friends
Have a clothing swap party with your friends.  Everyone has stuff in their closet they don't wear anymore, never have or are just sick of.  Maybe your friend has something nice but later decided that she really doesn't like it. These can be an excellent source for fun additions to your wardrobe you may not normally look at in a store. Swapping clothes with your friends can give new life to unloved pieces and help everyone pick out new stuff to freshen up their collection.
Whatever you have left can be donated to a local thrift store or taken to a consignment store.  Get rid of it.
Shop For Classics
So, what exactly is a classic?  It differs from person to person and varies depending on your individual style.  Many people would describe it as something that you will wear over and over.  For instance, the LBD (little black dress).  Dress it down with boots and a jean jacket or dress it up with strappy heels and a signature necklace.  It is a staple piece that can be made into multiple outfits.  That makes it a classic.
Now that you've inventoried your closet its time to make a list of what classics you need to round out your look and what accessories you need to build up on to make those staples go farther.  The best way to dress fly on a budget is to buy fewer things. That's why you have a list. 
Shop Sales, Clearance Racks and Discount Stores
Your favorite store has regular sales.  Make friends with an associate and get a heads up when they are happening.  Sign up for emails or messages that keep you informed.  Discount stores offer the latest end of the season extras at deeply discounted prices.
Shop Thrift Stores
Thrift stores have come a long way and with the availability of consignment stores, you can find a huge range of designer clothes on the cheap.  Thrifting, although more frustrating and difficult than shopping in a regular store, can turn up gems to add to your collection for rock-bottom prices.
Accessorize
Not many people can do a complete wardrobe overhaul each season. Instead of spending a fortune on new everything, invest in good staples that can last several seasons. Then, when a new trend hits, buy cheaper accessories to update your look.  Scarves, belts, bags, and snappy shoes can transform an outfit from yesterday into the latest look.
There is a lot more in your closet than you think when you shop and swap smart and use some creativity.