Great Outfits For Photoshoots
Great Outfits For Photoshoots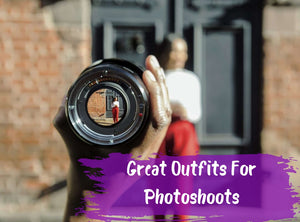 Are you feeling overwhelmed about what to wear for the upcoming photoshoot?  The stress is reminiscent of the night before the first day of school, isn't it?  Allow me to take you through some basics that will help you choose the right outfits and ensure that you'll look your best in your photos.
Timeless Tips:
Choose classic pieces. The right outfit will look good 10-20 years from now and your face will be timeless.  Trendy clothing will date your photos.
Wear solid colored clothing. Patterns tend to be a distraction, whether they are checks, stripes, or a band logo.  The point is to draw attention to your face, not away from it.
Choose muted tones that are a bit subdued. Bright colors demand all the attention.
Choose similar tones for your top and bottom (both dark or both light). Similar tones are slenderizing.
Choose a top with sleeves at least to the elbow. This is not the time to go for strapless or spaghetti straps.  The more skin that is exposed dilutes the face.
Choose long pants or a skirt below the knee. The same caution about exposed skin, but you also want to be able to be comfortable in a variety of poses such as kneeling. 
Choose dark socks and footwear. This is not the time for white athletic shoes that draw the attention to your feet unless of course, you are wearing a uniform to go with it.
Keep jewelry simple and minimalistic. The focus should not be on your necklace.
Do your hair the way you'd normally do it while wearing these clothes. A beautiful updo with a pair of jeans doesn't look authentic, but a ponytail does.   Let your hair look like you. 
You have your own style and you want to show it?  You can by making a few well thought out exceptions to the above guidelines. 
Wear your go-to outfit. Everybody has one.  You will feel fabulous and your photos will be fabulous too.
Add some pizzazz by focusing on textures like corduroy, lace, denim and knits mixed together.
Mix it up with different styles and levels of dressiness: jeans, dresses or a formal.
Add some flair with accessories. A hat or scarf, or a pop of color with a red bag or shoes.
Always keep your photo location in mind. A monochromatic outfit that blends with a field of grass or structural lines that frame the face is simple ways to add style to your photos.
Bring more outfits than you need. Have accessories ready in baggies. Have a friend or family member come along to help.
Bring props for whatever your hobbies may be: music, sports, animals. If you are going to wear a uniform, bring the whole thing, including the equipment.
Last But Not Least Tips
Get the undergarments right. Try all your outfits on with what you will be wearing under them.
Lay everything out together. Including underwear, shoes and accessories.
Iron your clothes and bring them on hangers. Wrinkles show up in photos.
If you'd wear it on the first day of school, it reflects your unique personality and style and is a smart choice.