Back To School Fashion Trends 2019
Back To School Fashion Trends 2019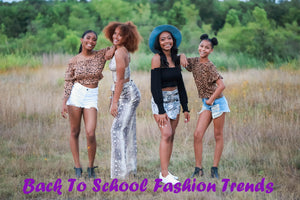 It's hard to believe but summer is almost gone. With fall fast approaching, we want to talk back to school fashion trends. Fall trends are calling for lots of color including bright neons and electric colors, bold accessories, layers and white after Labor Day! Master the perfect fall outfit by converting your spring and summer pieces into cooler temperature looks using the following trends and cute outfit ideas. You'll be ready for the cold weather in style!
Fall Fashion Trends
Iridescent Accessories - are a hot item this fall including space-age metallic complete with a NASA logo patch.
Teeny Tiny Accessories - small purses and clutches that hold the minimal amount of essentials.
Boiler Suits and Jumpsuits - overalls with a lot more spunk. Add a belt or bandana around your neck or waist to personalize your look.
White after Labor Day - staple white pieces have a longer street life than just the summertime. Pair your favorite pieces with fall trends (this year, neons and leopard print) to keep them in season. Winter white booties are still an edgy addition anytime of year. Make sure to keep them clean.
Ultra Long Skirts, Maxi Skirts and Patterned Midi Skirts - are on the runway this year. The longer length can be intimidating but embrace the length with wild leopard print, bright sweater and simple boots.
Headbands With Blazers – a hot accessory in bold colors is a headband. Be creative and pair it with your edgiest look.
Blazers With Hoodies – Throw a blazer over your comfy hoodie to transform the cozy classic into a chic outfit. Combine this with your jeans, heels and you've kicked it up more than a few notches.
Head Wear – Grandma's visor, wide brim hats, bucket hats and conductor hats are trending this fall.
Cardigan Tops - Cardigans are finally cool. Button yours all the way up to replace your favorite match-everything sweater.
Oversized Puffer Jackets - are still the rage. The bigger the better.
All Coral Everything
Biker Shorts Are Everywhere - Dressed up and down, this athletic piece can be kept sporty or paired with a blazer and heel to dress it up.
Cherry Red Accents – Like a cherry on top of your favorite ice cream sundae, this accessory ties together an outfit.t like the cherry-on-top of a sundae.
Sneakers With Anything - Wear your favorite gym shoes with a ruffled skirt or dress. Anything goes.
Other Trends This Fall:
Neutral Animal Print
Romantic Suiting
Puff sleeves
Exaggerated Ruffles
High-Rise Cargo Pants
Faux Fur
Tracksuits
Socks with Sandals
What is your favorite trend this fall? Post a pic of your favorite outfit!