vintage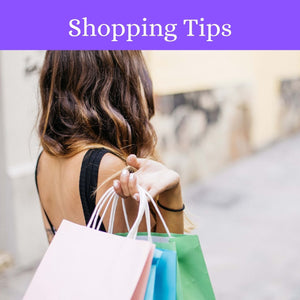 Shopping Tips - Make The Most Of Your Fashion Dollars
Knowing how to make the most of your fashion dollars is a must have skill in today's world.  Being a savvy shopper doesn't require a lot of skill, just some basic knowledge.  If you are ready to become a fashionista on a budget, there are 8 tips you need to know about how to shop and where to shop:
Need vs. Want
Do not shop for entertainment. When you hang out at the mall on a Saturday afternoon, you see things you don't need. Because you see them, you want them. This leads to impulse buying and costly mistakes that can wreck your budget. Ask yourself is this a need or want?
Have a Plan
Needs are wardrobe items that are either staples or the trendy pieces necessary to round out your collection.  Shop with intention.  Shop the sales. When you shop sales to buy needed items, your shopping stays focused, and you get more for your money. Pre-season and post-season are great times to find bargains.  But don't buy just because something is on sale. Do you really need it?
Buy what you love.
While I do believe that there's something to be said for classic pieces, I don't believe in buying something just because you think you should.
Whenever you find yourself in the dressing room grappling with the should-I-or-shouldn't-I conundrum, just ask yourself one question: Do I love this? It sounds simple, but it works. You'll be surprised how all the things you love can work together and complement each other without the help of a "foundation piece".
Imagine it.
When you're deciding whether to buy something, you should always try to picture it in your wardrobe. Some people say you should be able to think of at least three items you can pair it with in order to make it worth it, but I say as long as you can think of one, you're all set. Here's why: If you've already got Tip #2 down, then you love it, and that's the most important thing. This will encourage you to shop outside of your comfort zone, and chances are, you'll start finding more things that will go with that new piece. Styles evolve—don't hold yourself back by choosing the same things repeatedly.
Try. It. On.
So true. You really don't know how something is going to look on you until you try it on…for better or worse. Sometimes a piece is stunning on the hanger but just doesn't look right on your frame and sometimes it's the opposite. It's also important to try on a variety of styles (midi skirts, high-waisted trousers, boxy tees, crop tops, shift dresses, etc.), so you have an idea of which styles tend to work best for your body. This'll help when you're shopping online, too. 
You're going to be trying on a million different items, and it can be hard to see the potential in a cool shirt when it clashes with your leggings. Wear something simple that could match with a variety of styles.  Try something simple:  wear a solid colored t-shirt and jeans/solid leggings, along with your favorite pair of boots.
Know when to spend money and when to skimp.
The key to a balanced wardrobe (and budget) is to have a mix of high- and low-end pieces. Spend where it counts. There are times when it is worth it to spend a few extra bucks on high quality items. Use a little math. Take the cost of the item divided by the number of times you would probably wear it in a year.
For example, my favorite pair of jeans were $85. Since I typically wear those 3 times a week for let's say 20 weeks, it works out to 71 cents for each time I wear them in one year. Money well spent.
Stick with Classics with A Little Flair
Build a great wardrobe by basing it on timeless foundation pieces, and then add trendier clothes each season.  Owning the right foundation pieces isn't just about looking great – it's also about saving money. By putting your fashion dollars toward good-quality pieces that never go out of style, you waste less on poorly made clothing that only lasts a year or two in both style and wear. Plus, you always look current because you can simply pepper in colors, shapes, and fabrics that change with the seasons – and with your tastes.  Timeless pieces that never go out of style:
Black pumps
Trench Coat
Dark wash jeans
Pencil skirt
Riding boots
Tailored button-up
Blazer
Neutral satchel
Perfect white T shirt
Little black dress
Know Your Price Point
To be successful in shopping for clothes on a budget, you must decide how much you are willing to pay for an item before you start shopping.  Everyone's budget is different, so you have to decide what works for you.
Some price point examples:
Tennis Shoes: Under $50
Women's Jeans: No more than $100
T-shirts / Tank Tops – Under $15
Sweatshirts – $30
Socks – $1 per pair
Places to find classics and trendy clothes for reasonable prices:
American Apparel
Old Navy
American Eagle Outfitters
Charlotte Russe
Aeropostale
Abercrombie and Fitch
Forever 21
Hollister
Pac Sun
With retro continuing to be a popular trend and because saving money is always worth the effort, consider thrift shopping.  Apply the same basic tips with a few twists to be successful.
Go with a Friend
A second opinion is always valuable and shopping with a friend is just more fun.  Make it a date, a girl's day out.
Give Yourself Plenty of Time
Thrift stores are a treasure trove, but because of their haphazard arrangement, it's more difficult to find what you want.  It's necessary to look at each individual piece so go slow and really search.  Finding the right pieces amidst the menagerie will take time, but when you have a pile of unique items at bargain prices, it's worth it.
Reach for Texture and Color First
When searching through clothes, reach only for pieces in a color and texture you like. This way, you're only pulling out clothes that have some promise, and you're cutting down on time spent mindlessly flipping through hangers. This is especially helpful if you already have a color palette in mind or at least know which colors look best on you.
Size Is Relative
Don't look only in your department store size.  Older brands tend to be sized differently than the sizes we see today. The golden rule of thrifting is the number on the tag means nothing, but fit is everything. Obviously, you're more likely to find clothes that fit in your typical size, but a lower size will have pieces that run large, and a higher size will have pieces that run small. A sweater that's one size too big may be perfectly oversized. A too-small shirt may be the right fit for a crop top. Pieces like flannels and button ups are good for layering, so they may not need to fit perfectly on their own.
Remember…try it on.  Because you're being flexible with sizing, it is vital to try everything on before you buy it. Even if a piece looks like it will fit perfectly, even if it's already your size, it may cling or sag in strange places, and you'll never know until it's fully on. Most thrift stores don't allow returns, and you don't want to spend money on clothes you'll never wear.
Try on More Than You'll Buy
No matter how perfect a piece looks on the hanger, there's no guarantee it will fit. Even on the best day, not everything you choose will be suitable to buy. And that's okay! Some days half the pieces you choose work, and some days, out of an entire cart, nothing works. Thrifting is a gamble. Because of this, don't be afraid to try on more than you think you'll buy. If you're careful about only buying pieces that truly work, you'll walk out happy. It's better to try on three shirts and only buy one than try on one, get frustrated it doesn't work, and leave with nothing.
Check for Damage
Clothes end up in thrift stores at varying levels of worn. Some clothes still have the tags on while others have been worn for years before being donated. Because you're already trying everything on, always inspect a piece for damage! Run your hands all over the garment and feel for rips, loose threads, or missing buttons. Examine it in different lighting for stains that aren't immediately visible. This is also a good time to check the washing instructions. If you know you'll never take an item to a dry cleaner, don't pick up a garment that's dry clean only.
Know what you can do
Some of the clothes you find won't be perfect. Some just need a good ironing, but others can need some serious work. Know what you can do: how good are you at sewing? Do you know how to hem? Can you patch that hole or fix that tear? Can you replace the buttons?  Understand your own limitations.
Check out brands
If you're looking for clothes that can last, then you're going to want to pay attention to the brand names. Some of the more recognizable ones you stumble across are going to act as reassurance that the garments are of good quality and won't fall apart after one wear.
Vintage does not equal thrift
A lot of the clothes that you find at thrift stores are going to have some vintage inspiration, but vintage clothing isn't necessarily thrifting. A lot of vintage stores will give you sticker shock, and you won't find anything there if you're on a budget. Know the difference between the two!
Places to Thrift Nearby
Plato's Closet
Yours Truly
Goodwill
Salvation Army
Magnolia's
Style Encore
HDE
The Attic
Building a unique, perfectly expressive wardrobe doesn't have to cost a fortune. Hopefully, these tips will inspire you to feel less daunted and more inspired to find beautiful pieces while saving money. Happy thrifting!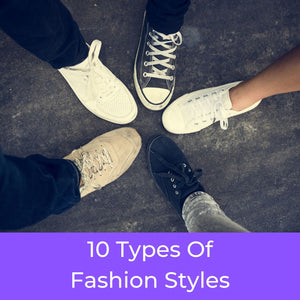 The 10 Types of Fashion Styles, Which One are You?
Personal fashion styles have followed multiple trends over the years. Your personal style may evolve over time, but most people have a trend that they gravitate to or they morph back and forth between a couple of styles. Following is a list of styles that have been trending for decades:
Vintage
Bohemian
Chic
Artsy
Casual
Sophisticated
Tomboy
Rocker
Preppy
Vintage - A blast from the past, Vintage style is one of the most adorable. A culmination of fashion from the 20's to the 70's, it has overcome the test of time. From flapper dresses to pinup clothing, from retro swimwear to indie clothing, the vintage look is timeless.
Bohemian - More commonly referred to as 'Boho', the best way to describe bohemian would be non-traditional. Bohemian epitomizes extravagant and wild patterns on exotic textures. It can be characterized as an inspiration from gypsy and hippie looks.
Chic – As a symbol of style, the Chic persona is trendy and fashionable. The statement look is smart and striking. Casual in not such a casual way, the Chic style embodies tailored designs that are classy.
Artsy - Unrestricted by the textbook nature of fashion, Artsy, as the names implies, appeals to the independent creativity of the person. These style types want to make a statement of their own by the clothes they wear. They are the Poets of fashion.
Casual – Simple and uncontrived, the Casual style is all about calm with the practical. A combination of elegance with comfort. None of the exotic and bold items will be in the wardrobe of a woman who follows casual fashion. Match the accessories with whatever the clothing you are wearing.
Sophisticated - Culture and luxury mean the most to the people who choose this style of fashion. The people who prefer this are the ones who require everything at best quality. Often, they look for styles that make a statement with a polished manner. If you go for the businesswoman with a less formal look, this might be your style.
Tomboy – When you do not abide by the usual norms of what a woman should wear. A simple and modern look, boyish over the classy, elegant style. No light colors, frills, or laces.
Rocker – This style all depends on the wearer and what music they love and support. Vintage T-Shirts, ripped jeans and the leather jacket are the icons of the rocker look. A versatile style of fashion that keeps changing depending on the genre of music.
Preppy – It may seem like it's out of the past, but the college look is still a thing. T-Shirts are matched and A-line skirts are matched with girly blouses that are lined up in their wardrobe. A cute little headband and geeky glasses accompany this style.
Wishes for the best in discovering your style from 3T's Boutique.