preppy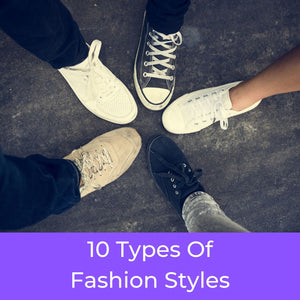 The 10 Types of Fashion Styles, Which One are You?
Personal fashion styles have followed multiple trends over the years. Your personal style may evolve over time, but most people have a trend that they gravitate to or they morph back and forth between a couple of styles. Following is a list of styles that have been trending for decades:
Vintage
Bohemian
Chic
Artsy
Casual
Sophisticated
Tomboy
Rocker
Preppy
Vintage - A blast from the past, Vintage style is one of the most adorable. A culmination of fashion from the 20's to the 70's, it has overcome the test of time. From flapper dresses to pinup clothing, from retro swimwear to indie clothing, the vintage look is timeless.
Bohemian - More commonly referred to as 'Boho', the best way to describe bohemian would be non-traditional. Bohemian epitomizes extravagant and wild patterns on exotic textures. It can be characterized as an inspiration from gypsy and hippie looks.
Chic – As a symbol of style, the Chic persona is trendy and fashionable. The statement look is smart and striking. Casual in not such a casual way, the Chic style embodies tailored designs that are classy.
Artsy - Unrestricted by the textbook nature of fashion, Artsy, as the names implies, appeals to the independent creativity of the person. These style types want to make a statement of their own by the clothes they wear. They are the Poets of fashion.
Casual – Simple and uncontrived, the Casual style is all about calm with the practical. A combination of elegance with comfort. None of the exotic and bold items will be in the wardrobe of a woman who follows casual fashion. Match the accessories with whatever the clothing you are wearing.
Sophisticated - Culture and luxury mean the most to the people who choose this style of fashion. The people who prefer this are the ones who require everything at best quality. Often, they look for styles that make a statement with a polished manner. If you go for the businesswoman with a less formal look, this might be your style.
Tomboy – When you do not abide by the usual norms of what a woman should wear. A simple and modern look, boyish over the classy, elegant style. No light colors, frills, or laces.
Rocker – This style all depends on the wearer and what music they love and support. Vintage T-Shirts, ripped jeans and the leather jacket are the icons of the rocker look. A versatile style of fashion that keeps changing depending on the genre of music.
Preppy – It may seem like it's out of the past, but the college look is still a thing. T-Shirts are matched and A-line skirts are matched with girly blouses that are lined up in their wardrobe. A cute little headband and geeky glasses accompany this style.
Wishes for the best in discovering your style from 3T's Boutique.