Fall Fashion Must-Haves - Updated Retro
Fall Fashion Must-Haves - Updated Retro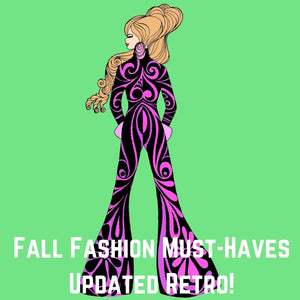 Designers dug into their bag of tricks this year, not for just one decade in the past, but for multiple updated retro looks for the fall fashion season.
Some looks you may recognize, others maybe not, but either way fall is on the way with some fun styles to make getting dressed some fun.
Scroll on for some fall must-have ideas.
Chain Necklaces - these have been around for a few seasons.  To update the look layer several over a solid color top.
Fuzzy Sweaters – A look that fall is all about.  Try a cropped version with high-waisted cargos and work boots.
The Micro Minidress – Choose the grooviest print you can find with bold sleeves to keep the attention from top to bottom
Halter Tops - Look for an animal print or a top with matching pants.  Pair with a denim jacket.
Sheer or Glitter Tights – So fun for boots or with dresses. Pair slightly sheer tights with a long leather dress and strappy pumps, boots or rock some tights with a line on down the back or with a bow.
Tattoo Print Tops – If you don't have tattoos, get the look without a needle.  Double up on layers of sheer contrast prints and add some edgy jewelry.
Cropped Mock Turtlenecks – Style this in monochrome so your midriff really breaks up the look with matching pants or paired with jeans.
Plaid Pants – Plaid is out there so go plaid all the way from top to bottom in bold tones or tone it down and go for wide legs. 
Groovy Print Maxis - Let your style shine and allow the pattern to speak for itself by accessorizing with nothing but a few bangles.
Rimless Color Tinted Sunglasses - Match your shades to your outfit
Platform Boots -  Get your Elton John game on with some serious leather flare pants
Bohemian Style Fringe – Rock this look with fringe anything or try for a fringe-covered sweater with ripped jeans and pointed-toe boots.
Waterfall Earrings - A fitted black turtleneck makes a sleek backdrop for your chandeliers.
Statement Scarfs – Bold as can be paired with a monochrome outfit.
Tie Die Converse  or Checkered Vans – Get the Van look you want by choosing a black and white version and make them your own with whatever colors you choose.
Long Black Coat  - Nobody does this better than Keanna Reeves in the Matrix.  Add your flair with a pop of color underneath and minimize the jewelry.
Have some fun adapting the past to your fashion personality.