Great Summer Reads - Get-Away With These Newly Released Books
Great Summer Reads - Get-Away With These Newly Released Books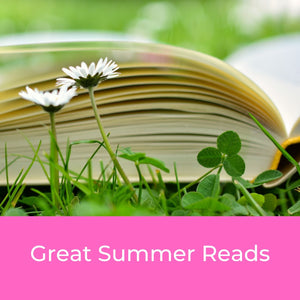 Do you need an afternoon get-away? Check out the following new releases for a great summer read. Many are available at local retailers, online and at your local public library.
Aurora Rising by Amie Kaufman and Jay Kristoff
A group of misfits embarks on a wild-goose chase across the galaxy in this high-speed space thriller that's impossible to put down. Monsters, conspiracies, and friendship — this book has it all.
Field Notes on Love by Jennifer E. Smith
Hugo just got dumped. Mae is an aspiring filmmaker. The two meet for the first time when they head off on a cross-country train trip together. Heartwarming and authentic, it's the perfect read for a relaxing summer afternoon.
Four Dead Queens by Astrid Scholte
When Keralie steals a package from Varin, they uncover a conspiracy to murder the nation's four ruling queens. The two teenagers combine forces to find answers about the deaths of the queens — and try to stay alive in the process.
Her Royal Highness by Rachel Hawkins
When Millie moves to a private boarding school in Scotland, she finds herself stuck with a high-strung princess for a roommate. The girls' initial dislike of each other gradually changes into friendship — and maybe something more.
Hope and Other Punchlines by Julie Buxbaum
When Noah recognizes Abbi as "Baby Hope" from a famous photo taken during the September 11 terrorist attacks, he feels like fate brought them together. With some convincing, Abbi agrees to help Noah find answers about that tragic day and the photo that made her famous.
How It Feels to Float by Helena Fox
If you're looking for a moving story that explores themes of mental illness, grief, and love, pick up a copy of How It Feels to Float and follow Biz as she navigates a tumultuous coming-of-age. This heart-wrenching novel will stay with you long after you finish reading.
If I'm Being Honest by Emily Wibberley and Austin Siegemund-Broka
To win her boyfriend back, Cameron decides to become a nicer person and make amends with people she's hurt. Loosely based on Shakespeare's The Taming of the Shrew, this is a delightfully sweet and positive tale of redemption, self-discovery, and true love.
Lovely War by Julie Berry
Greek mythology and historical fiction collide in this lush and heartbreaking novel. To assuage Hephaestus's anger over her infidelity, Aphrodite tells him about the lives of four young people as they fall in love during World War I.
Night Music by Jenn Marie Thorne
This forbidden romance between a self-made YouTube star and the daughter of a celebrated composer is sure to light up any summer. Music-lovers will adore this symphonious rom-com set against New York City's classical music scene.
Nyxia Uprising by Scott Reintgen
The much-anticipated finale to the Nyxia Triad series is finally here. Dive back into a galaxy filled with conspiracies, betrayals, and more twists than a pretzel. Whether you're new to the series or a long-time fan, this summer is the perfect time to binge-read the trilogy.
Skyward by Brandon Sanderson
More than anything, Spensa wants to become a pilot and defend her planet against the frequent attacks from alien starfighters. When she discovers the wreckage of an old battleship, she realizes that her dreams might be within reach.
The Things She's Seen by Ambelin Kwaymullina and Ezekiel Kwaymullina
A ghost, a grief-stricken father, and a mystery combine into a fantastical tale filled with secrets. This fast-paced thriller takes readers on a journey through a small Australian town and the darkness hiding beneath its surface.
Two Can Keep a Secret by Karen M. McManus
Put on your crime-solving cap and get swept away in this thrilling whodunit about a girl, a boy, and a string of unsolved murders. As threats and hints pile up, you'll be burning the midnight oil trying to finish the book before dawn. 
Other Titles to Check Out: 
Always Never Yours by Austin Siegemund-Broka and Emily Wibberly
Ash Princess by Laura Sebastian
Genuine Fraud by E. Lockhart
I Have Lost My Way by Gayle Forman
Royals by Rachel Hawkins
The Beauty That Remains by Ashley Woodfolk
The Evolution of Claire (Jurassic World YA Novel) by Tess Sharpe
The Smoke Thieves by Sally Green
Undead Girl Gang by Lily Anderson
If you a looking for recommendations for ages younger than teens, follow this link. https://www.readbrightly.com/summer-ya-books/
More choices for teens: https://www.ymca.net/summer-buzz/summer-reading-list-for-teens 
https://www.teenvogue.com/gallery/summer-book-roundup